Water Damage Repair & Cleanup
Flooding is one of the most common forms of damage to both residential and commercial properties. Damage is generally caused by flooding, fire suppression, or burst pipes. From extraction to dehumidification, Advanced Disaster Recovery Inc. can handle all your drying needs, regardless of scope and scale. Whether 50 square feet, or 50,000, residential, commercial or industrial loss, Advanced Disaster Recovery Inc. has the knowledge and expertise to ensure drying is done quickly and efficiently. Advanced Disaster Recovery Inc. mobilizes immediately to assess the damage, accurately estimate the time and materials needed to fix the problem, and use the proper procedures for a complete and lasting restoration.
Through the use of industry proven drying techniques to guarantee the most efficient drying process, our dehumidification experts set up and monitor the drying process through every phase to ensure proper drying occurs. We ensure that moisture deep within walls, floors, and contents are thoroughly removed, avoiding a wide range of problems in the future.
24-Hour Emergency Response
Services include extraction, complete structural drying, advanced dehumidification, mold, and environmental remediation, carpet, upholstery, and area rug cleaning, document salvage, drying and reprocessing, electronics restoration, and structural repairs.
Many disaster recovery companies focus on removing the moisture. We focus on the entire project, from clean-up to full reconstruction of walls, structural repairs, painting, and final touch-ups, getting you back to normal again.
Using the Latest Tools in Water Damage Cleanup & Removal
Having water damage in your home can make it impossible to live in. By its very nature water will seep into every surface it comes into contact with, causing damage that can invite dangerous health issues like the growth of toxic mold. In turn, mold damage can cause further damage and lead to structural rot in your residential or commercial property.
The sad fact is that once a home or business owner finds water damage in their property, the damage has already been done. Advanced Disaster Recovery, Inc. water damage specialists are equipped with the latest tools in the restoration industry to thoroughly extract all of the water and restore your property back to its original condition.
With You Through the Whole Water Damage Process
We will be with you through every part of the process including the water extraction, water restoration, and many other water damage services that are fitted to your situation. We use all available water removal techniques to give you the best residential or commercial property restoration. When you call we will be on our way in 90 minutes or less! We will arrive quickly and prepared to start mitigating the damage right away.
Certified Water Damage Company
Whether it is a minor leak or a major flood that has caused the damage, our highly skilled technicians are able to respond quickly, effectively and appropriately; minimizing the impact of the incident, reducing the secondary damage, managing costs and providing reassurance throughout the project.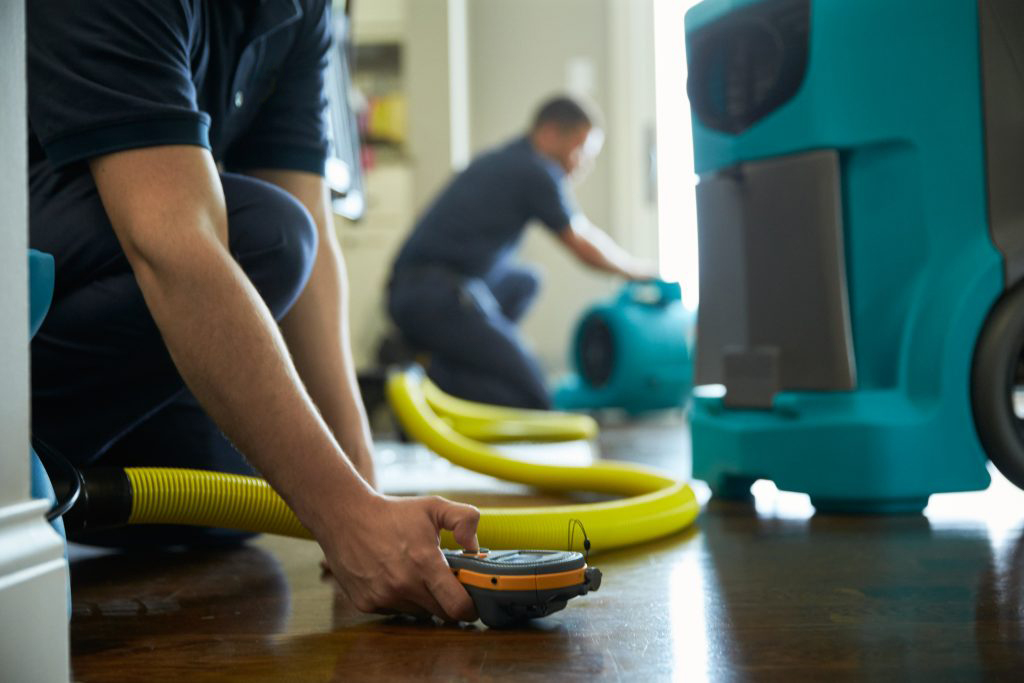 Water damage is a serious issue in any home or workplace. It can ruin building materials, furniture, and electrical systems, and mold can also cause health risks. The best way to protect yourself is to get the water damage repaired as soon as possible. Leaving the damage untreated can lead to bigger problems down the road.
Untreated water will spread to dry materials, creating a breeding ground for mold. And a home with mold will not only smell bad, but it will also cause illnesses. Cleaning up mold will also cost you money. So, it's best to seek professional help when dealing with water damage.
While it may be tempting to wait until it is too late to take care of water damage, it's important to know that the longer you wait, the more expensive it will become. If left untreated, water damage can even cause structural damage.
Water can weaken wooden beams, which are important to the stability of your building. If these beams aren't repaired, the wood can warp and damage the structure of the building.
Another sign of water damage is discoloration and stains on walls and ceilings. The stains might look like paint peeling off. If you leave untreated, the stains will become permanent and cause more repairs and work. Water damage can also lead to an unpleasant odor. Even air fresheners can't eliminate this odor, so it's important to get a professional to treat water damage as soon as you notice it.
When you experience a basement flood, the first thing you should do is act fast. Time is of the essence when it comes to minimizing damage and preventing further flooding. If you find yourself with a flooded basement, the first thing you should do is call a professional restoration company. While you wait for them to arrive, turn off any appliances or electronics that may be in the affected area, and if possible, move any rugs or furniture out of the way. Once the restoration company arrives, they will assess the situation and begin pumping out the water and drying the area. They may also need to remove any damaged drywall or insulation. Depending on the extent of the damage, your basement may need to be professionally cleaned and dehumidified before it is safe to use again. After the flooding has stopped, it may be in your best interest to seek an insurance claims adjuster to maximize the what the insurance pays for your claims being made. They can also make sure that the claims are accurate and not fraudulent.
The Hazards of Frozen Pipes
Most people think of rising flood waters when they think of severe water damage incidents, but in most cases the problem that does the most damage is small and overlooked. When a residential or commercial property in is left unattended in the winter with no heat regulation or has poorly insulated walls, water can freeze in pipes and water lines and cause them to burst. These breaks can either be small and slow or large and fast – allowing tons of water rushing into your home or business and causing massive water damage.
Putting off repair of any frozen, broken, or leaking pipes can lead to more headaches and more problems. It can be very expensive to repair water damage that has caused your property to suffer from structural decline, not to mention the damage it caused the contents contained within its walls. Damage can include hazardous contamination, mold, structural damage, and rot. If your home or business has suffered from a frozen pipe, or is in need of water damage cleanup, give ADRI a call today!
Basement Water Damage Repair
Water in the basement can be a very serious water damage restoration situation and can go unnoticed for extended periods of time, away from every day traffic. In their lifetime, 98% of basements will experience water damage. This is not surprising as most of the pipes in your home or business are found in the basement and water will naturally gravitate downwards towards there. Constant pressure will lead to cracks in the foundation and water will seep in if the foundation of your property has not been properly waterproofed.
We understand how to perform complete basement water damage repair, flood cleanup, and structural drying and will come and take care of any flooded basements or basement water damage as soon as possible before more flood damage occurs. Call us today to schedule our water removal service in the Northeast.
Is Your Business Prepared? Learn More About Our Emergency Response Program
In case of emergency and for immediate assistance, please call the location nearest you for 24/7 response.
For other inquiries, complete the form below.