Storm Damage Cleanup Companies In Port Ewen, NY
Advanced Disaster Recovery Inc. is the company to call if you need storm damage cleanup services in Port Ewen, NY. We have a well-established reputation for professional and courteous service. We follow all protocol guidelines issued by local, state, and federal agencies to ensure your safety during the cleanup. Our employees are ready to take your call; we are available twenty-four hours a day, seven days a week.   
Considering Strom Damage Cleanup services in Ulster County, Advanced Disaster Recovery Inc.'s certified experts can help. Call 845-382-8222 and speak to a specialist Strom Damage Cleanup Contractor and learn more about our Strom Damage Cleanup methods.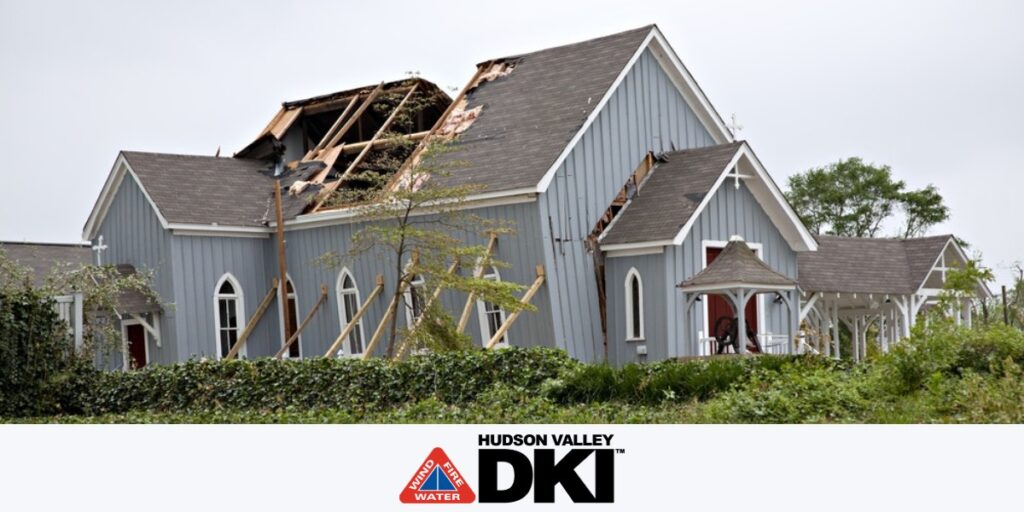 Types of Storm Damage In Port Ewen?
Every corner of the country is vulnerable to storm damage. Storms are a leading cause of insurance claims in the United States. The entire structure of a home may suffer varying degrees of injury as a result of a storm. Storm damage may occur from many types of storms. Hail, wind, cold weather storms, and water can devastate a home.
Total loss of home- Major natural catastrophes such as hurricanes, typhoons, storm surges, and tornadoes can mean the partial or complete destruction of a structure. 

Electrical systems- Lightning strikes can damage a home's electrical system and lead to fires in the house. According to the Insurance Institute, 2018 saw 77,898 claims made for damage due to lightning strikes.

Roof damage- Hail can chip away at roofing materials. Wind can tear away parts or all of a roof. Trees or branches and other flying debris can cause holes or cracks in the roof structure. Water produced by storms can creep into any gaps or cracks or holes in the roof or parts of its related systems such as gutters.

Siding damage - Wind can take off siding - a piece or two or many sections. Hail can dent and disfigure siding. Gaps in siding can allow water penetration if there are driving winds. 

Windows and door damage- Flying debris can break windows. Any cracks in door and window frames can allow water intrusion. The saturated ground may cause uneven settling and cause misalignment of windows and doors.

Foundation damage- Water can infiltrate even concrete and masonry materials, leading to reduced strength over time. Flooding can cause movement of foundation walls.

Interior damage - Water intrusion is the most common cause of damage to the interior of a home. Water - and the mold that can develop as a result. Both the structure and the contents of a home may be affected.
Trying to find Wind and Storm Damage Cleanup services in Ulster County, Advanced Disaster Recovery Inc.'s specialists can help. Call 845-382-8222 now to talk to a professional Strom and Wind Damage Cleanup Business and learn more about our Wind and Storm Damage Cleanup methods.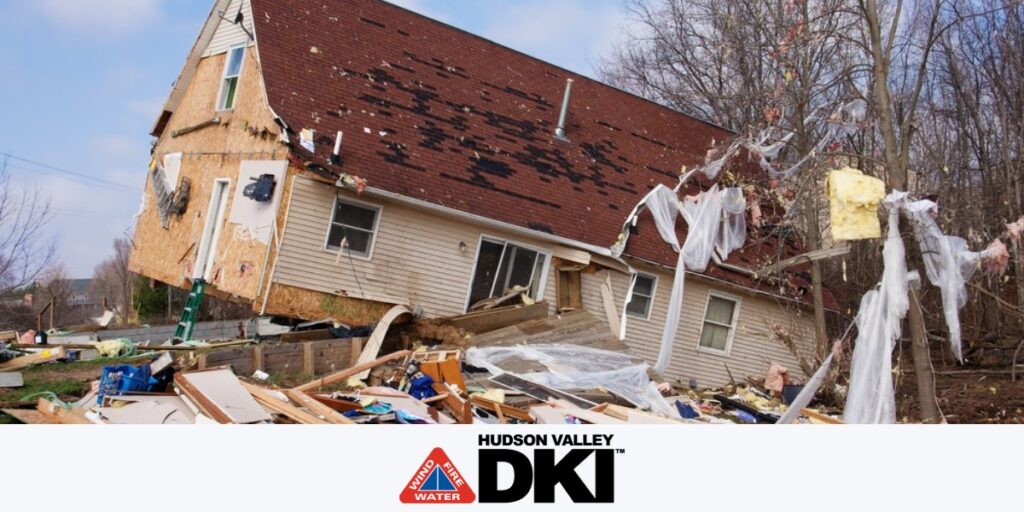 Protecting Your Home From Storm Damage in Port Ewen, NY?
Be proactive and take steps to minimize or eliminate damage to your home due to storms. An essential piece for you to consider is your home owner's insurance. Is your policy up to date, and does it reflect actual replacement values that you might need given a loss? Ten other steps that you can take are outlined here as well.
 Your ground should be sloped away from your house. The Department of Energy recommendation is six inches for every ten feet. This will keep water flowing away - not directed at - your home.

Sump pumps or other water removal systems in your basement or crawl space should be maintained and checked regularly to ensure that sure they are operating at full efficiency.

Surge protectors should be used in your home for all electronic devices. During any storm, you should not use electronics.

Roof shingles should not be excessively worn, chipped, or missing. Verify that any siding on the home is secure.

Seals around all windows and doors should be tight to prevent water intrusion.

Garage doors can be reinforced.

Professionally installed permanent storm coverings for windows may be used. Other homeowners have coverings available - typically of wood - for use when needed. If window coverings are portable, make sure that the coverings are already cut to fit. They each should be labeled clearly to indicate which window the covering should be affixed to.

Trim trees and bushes to remove dead branches. You may even want to remove any trees that may fall on your home. Also, make sure that there are not dead branches lying around in your yard. 

Fences, if installed, should be in good condition with no loose parts that become flying debris.

Regulary inspect your gutters and downspouts to make sure they are free of debris and unclogged to allow for proper movement of water away from your roof.
Do you have need of Wind and Storm Damage Cleanup services in Ulster County, Advanced Disaster Recovery Inc.'s certified professionals can help. Call 845-382-8222 now to talk to an expert Strom and Wind Damage Cleanup Service and learn more about our Strom Damage Cleanup methods.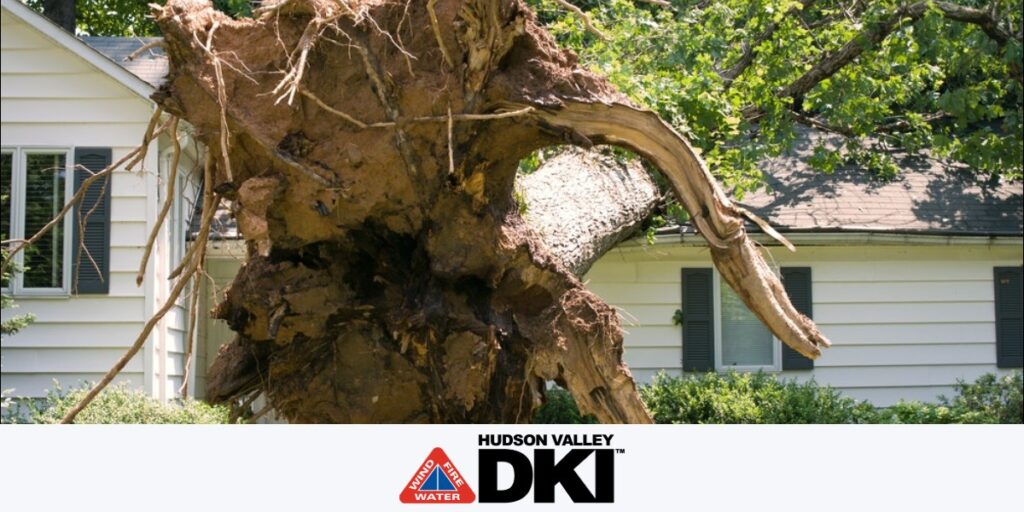 Should I Handle Storm Damage Cleanup Myself In My Port Ewen, New York?
Clean up after a storm is best undertaken by professionals. This is because there are so many intricacies involved in the assessment of the house after the storm. Knowledge of the proper equipment and supplies and techniques to use is key to successful remediation. For example, if there is water intrusion and drying out is needed, there are multiple considerations. Water extraction will need to be done thoughtfully, especially if it is thought to be or is contaminated. Drying techniques and equipment used, drying times, and temperatures are all dependent on the material being salvaged. And some items - whether furnishings or building materials - may need disposal. Debris in the yard may also require cleanup. If mold, which can grow as little as 48 hours, is detected by technicians, proper mold remediation must be carried out. Analysis of the electrical, mechanical, and structural systems of the home may be necessary and should be done by professionals. In all these possible scenarios, OSHA and EPA standards should be followed by workers to protect their - and your - safety. A professional cleanup service is well equipped and has the knowledge to make restoring your home the best it can be!
Trying to locate Strom Damage Cleanup services in Ulster County, Advanced Disaster Recovery Inc.'s professionals are there to help. Call 845-382-8222 now to talk to a professional Strom Damage Cleanup Company today and learn more about our successful Strom Damage Cleanup methods.
LOCAL SERVICE AREA
SERVICE AREA COUNTY
Ulster County
SERVICES AREA CITIES
Woodstock, West Hurley, Zena, Wawarsing, Woodstock (CDP)
SERVICE AREA ZIP CODES
12401, 12466, 12487, 12417
RELATED SERVICES